Maddow Blasts GOP Fringe Views, Fetal Masturbation Theory: They Keep Finding New Ways To Shock Us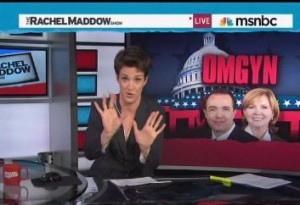 Rachel Maddow opened her show tonight taking the Republican party to task again for their continuing insistence on fighting for stricter and stricter anti-abortion laws, culminating in the GOP-led House today passing a huge federal ban. Maddow found time to break down everything from reminding viewers about the Todd Akins of the party to her explicit shock at today's newest claim that fetuses masturbate. Yes, that's where this debate has gone to now.
Maddow first highlighted a conservative radio host who, for some bizarre reason, has this theory that locusts just follow President Obama around everywhere like he is the harbinger of plagues or something.
Maddow then reminded viewers how the Republicans in Congress have a penchant of questionable decisions in appointing certain members of Congress to certain committees, including Jeff Duncan, Homeland Security Oversight Committee chair and apparent birther, Paul Broun, House science committee member and evolution denier, and Michael Burgess, vice chairman of the House Subcommittee on Health and believer in the idea that fetuses masturbate.
RELATED: MSNBC Anchor Accuses Shocked GOP Rep. Marsha Blackburn Of 'Pandering' On Abortion Ban
Maddow slammed Broun for trying to remove his name from the Republican anti-abortion bill due to alterations permitting exceptions in cases of rape and incest, but had nothing but shock for Burgess' bizarre comments. She remarked that with all the anti-abortion rhetoric going around in the last few years, "I felt like I had lost the capacity to be surprised before I heard the fetal masturbation theory."
Maddow said the GOP attempted to try and put out a more articulate voice by letting Marsha Blackburn push for the abortion bill. However, on MSNBC, Blackburn said that when women report rapes, it gives police people to track down and bring to justice. Maddow described this as "House Republicans effectively forcing you to use your uterus and access to it as a means of helping the police with their investigations."
Maddow remarked that the GOP's latest attempt to ban abortion is farther than they've ever gone before, even as House Speaker John Boehner insists that jobs are their number one concern.
Watch the video below, courtesy of MSNBC:
—–
Follow Josh Feldman on Twitter: @feldmaniac
Have a tip we should know? tips@mediaite.com
Josh Feldman - Senior Editor