Maddow Tears Into GOP's 'Increasingly Incoherent,' 'Low Rent,' And 'Pathetic' Anti-Gay Marriage Stance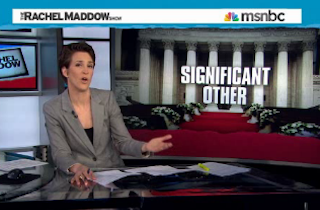 On the eve of the Supreme Court hearing arguments about Proposition 8, which bans gay marriage in California, Rachel Maddow took to her show to discuss the issue — and, of course, the politics surrounding it. She demonstrated her point by offering a contrast of the pro- and anti-Prop 8 legal teams. The former, Maddow asserted, exemplifies the "incoherent" and "pathetic" politics of the right's take on the matter.
Maddow began her segment by providing the background of the case and outlining some of the major players in the case, including Solicitor General Donald B. Verrilli, Jr. and Ted Olsen, who is arguing against Prop 8. By contrast, Maddow noted Chuck Cooper, the lawyer arguing for Prop 8, isn't such a "heavy hitter" — and barely shows up in a Google search.
"This imbalance is kind of a microcosm for what's happening on this issue right now in our country," she asserted. The pro-gay rights side has essentially captured the Democratic Party, Maddow added. "It is now officially inconceivable that the Democratic Party would, say, nominate a presidential candidate in 2016 who doesn't believe in equal rights for gay people."
Some Republicans, too, are on the pro-gay rights side, Maddow acknowledged, but it's a stretch even to say there's a split within the party on the issue. They want people to "stop noticing it," and not get involved with the issue, she continued. "They mostly just don't want to talk about it."
Simply put, the other side is a "mess."
"The politics surrounding this legal matter are increasingly coherent and weighty and predictable on the left," Maddow asserted. "And on the right, they are increasingly incoherent, and low rent and even occasionally pathetic."
Take a look, via MSNBC:

Have a tip we should know? tips@mediaite.com