Maddow Tears Into Rubio For Attacking Obama's State Of The Union Over Things He Never Said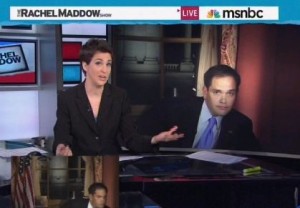 Marco Rubio's response to the State of the Union was mostly remembered for a quick pause to take a drink of water, but tonight Rachel Maddow touched on an aspect of the speech that the media hasn't spent much time covering: its substance. She highlighted a number of points Rubio made and attacked President Obama on that anticipated a different response from Obama, though she did sympathize with the unfortunate position of having to give the Republican State of the Union response in the first place.
RELATED: Maher Calls Rubio A 'Shameless Liar' Over Debt Claim In SOTU Response
Maddow first spent some time having fun with Rand Paul for having a similar "not looking at the right camera" moment in his Tea Party address to Michele Bachmann two years ago before getting around to Rubio. She said that his big response to the State of the Union was the first opportunity the Republican party will have to bring more people back to their side following last year's electoral defeat, and started by pointing out that before the response, Rubio got some attention for his vote against the Violence Against Women Act.
Maddow then explained how Rubio got "caught" during his speech: by wrongly anticipating what Obama would say and preparing responses based on those assumptions. The first example of this was Rubio going after Obama for defending his belief in big government, in spite of the president saying, "It is not a bigger government we need."
On Rubio's claim that Obama needs to release a Medicare plan, Maddow pointed out Obama actually did announce one in his address. Maddow also found Rubio's claims to be a man from a middle-class neighborhood somewhat disingenuous, since today there is a report Rubio is planning to move out of that neighborhood and into the nation's capital. She also noticed that if the GOP was trying to distance itself from Romney, that was not reflected in Rubio's speech, which had lines similar to ones Romney touted on the campaign trail.
Maddow closed by offering some advice to other Republicans: if you're ever asked to give the State of the Union response, just say no.
Watch the video below, courtesy of MSNBC:
—–
Follow Josh Feldman on Twitter: @feldmaniac
Have a tip we should know? tips@mediaite.com
Josh Feldman - Senior Editor