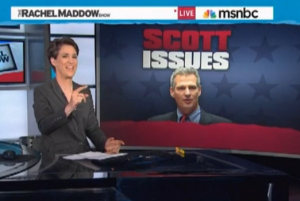 On Tuesday night, an incredulous Rachel Maddow attempted to figure out what's wrong with Sen. Scott Brown. First, she said, he lied about Maddow possibly gunning for his Senate seat. And now he's making unfounded demands regarding MSNBC's role in a potential debate with opponent Elizabeth Warren. Why, she asked, does he keep making this stuff up?
RELATED: Kennedy Institute Denies Scott Brown's 'Unprecedented' Debate Request
Brown, Maddow observed, has been a "strange" senator "in terms of his political tactics." If that sounds personal, she added, it's because she means it personally. Because Brown, too, "means it personally." She was referring to Brown's previous fundraising letter, in which he advised his mailing list about Maddow possibly running against him, decrying her political views. Reading an excerpt of the letter, Maddow paraphrased: "Hello national conservative mailing list, don't you hate Rachel Maddow on MSNBC? She's running against me. Send money."
She clarified she's never ran for anything and never will — and especially won't run against Brown for "anything ever." Even after she ran a full-page ad in the Boston Globe, she said, Brown never took it back.
Thusly, Maddow explained Brown strangeness, then moving on to the latest development involving the woman he is running against: Elizabeth Warren. Brown recently said he'd agree to a debate with Warren at the Edward M. Kennedy Institute on the condition that MSNBC drop out as sponsor and Vicki Kennedy (widow of late Sen. Ted Kennedy) refrain from making an endorsement.
"MSNBC is not the host of the debate," Maddow said, adding that the network was never going to host it, nor was the network even approached about it. (In a previous post, I noted that Kennedy's invitation said "would be carried live on our local NBC affiliates and/or MSNBC.")
"Are other senators like this?," Maddow asked. "Is anybody else besides us at MSNBC having to deal with a sitting U.S. Senator constantly making stuff up about their hosts running campaigns against him? Saying we're hosting debates we're not hosting? Does this happen to other people?"
She ended the segment by extending an open invitation to Brown, should he want to explain why he keeps "making stuff up" about her and her network.
Have a look, via MSNBC:

Have a tip we should know? tips@mediaite.com