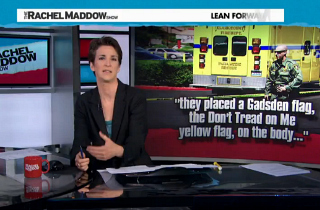 During her Monday evening show, MSNBC's Rachel Maddow analyzed the information left behind by Jerad and Amanda Miller, the couple who allegedly shot two police officers and a civilian before killing themselves this Sunday in Las Vegas. She found that it may be appropriate to connect their actions to a certain sect of political thought.
The Millers both had an extensive social media trail of "liking" and supporting a variety of causes Maddow identified as "right-wing" — from gun culture to anti-government politics to fringe radio host Alex Jones — and so, taken in total, she suggested, the Vegas slayings are not actually that surprising considering the political element of their spree.
From the fact that the shooters placed a "Don't Tread on Me" (Gadsden) flag on the body of one slain officer, along with a swastika; to the violence-encouraging videos liked by Amanda on YouTube; to the killers' public support of Nevada rancher Cliven Bundy against the federal government; to their declaration of "revolution" upon killing their first victims, all the evidence had Maddow wondering if it's appropriate to connect the shootings to a political strain [emphasis added in bold]:
Does this online ideological trail of breadcrumbs from this couple that apparently committed these crimes yesterday and is now dead, does their online trail of breadcrumbs just happen to be the political detritus of a pair of run-of-the-mill criminals who would have done this, regardless? Could their online fascinations just as easily have been something else? Is it just our own desire to find meaning here that has us imparting too much meaning to what they believed and why they said they were doing, why they did it? Or is a fantasist and weapons-focused strain of the far right of American politics right now making this sort of thing more likely? Making it more possible than it otherwise could be if no one was out there encouraging folks to believe that shooting police officers in a pizza shop and shooting up a Walmart might reasonably be the way to spark an anti-government revolution?
Watch below, via MSNBC:
[h/t Raw Story]
— —
>> Follow Andrew Kirell (@AndrewKirell) on Twitter
Have a tip we should know? tips@mediaite.com