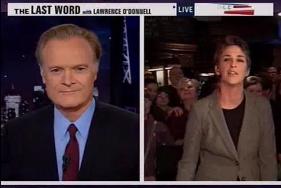 With the launch of Lawrence O'Donnell's 10pmET show, MSNBC has three live hours each night in prime time for the first time in its history.
And unlike CNN's Parker Spitzer, O'Donnell has seen some immediate ratings success – which seems to be setting up a three-way ratings race for top prime time hour in the demo.
The parity at the top of the MSNBC chart could be traced back to last month as well. Rachel Maddow at 9pmET beat Keith Olbermann at 8pmET in the important A25-54 demographic during September 2010. It isn't the first time it happened – but it's rare. And although it was close (288,000 to 284,000) it was close in total viewers as well; the two shows were just 15,000 apart.
Maddow also is edging toward a milestone she hasn't achieved yet – her fourth consecutive week #1 on MSNBC in the demo. If she tops Olbermann this week, that makes four in a row.
Which brings us to Lawrence O'Donnell, whose program launched last Monday. The show has performed strongly so far, beating CNN's Anderson Cooper on CNN by 51% in total viewers and 16% in the demo during his first week. But even within MSNBC, the show appears to be a contender for the top slot. Here are the pattern of demo finishes during the Monday-Thursday O'Donnell was on last week:
Od – M – Ol
M – Ol – Od
Ol – M – Od
M – Od – Ol
Four different finishes.
It will be very difficult for either program to unseat Olbermann as #1 in total viewers on MSNBC – which truly shows how many people are watching overall. But in the demo, it's getting close, and Maddow could overtake Olbermann as a whole. This isn't a knock on Countdown, as its ratings have remained consistent. Instead, it shows the power of an increasingly streamlined MSNBC prime time line-up, bolstered by the strength of the others.
We'll check back at the end of October.
—–
» Follow Steve Krakauer on Twitter
Have a tip we should know? tips@mediaite.com