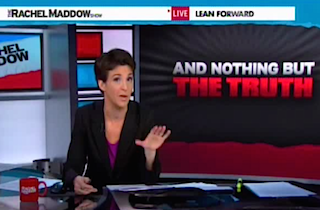 Rachel Maddow opened her MSNBC show Wednesday with an in-depth, scathing look at the revelations about various exaggerations and lies Fox News host Bill O'Reilly has been accused of making over the years. In particular, Maddow drew attention to claims O'Reilly made about his reporting on the JFK assassination for CBS News.
The host said her show reached out to Fox for answers about his apparent fabrications and instead got information about how great his ratings are. "I've seen your ratings shoot my ratings right in the head," Maddow admitted. "Well, I've seen pictures of that, I should say," she added, referencing O'Reilly's explanation for his false claims about seeing nuns get shot in the head in El Salvador.
"The Fox News Channel now has a problem, right?" Maddow said. "Even on a business level, a media level with the face of their network, their flagship anchor having all this stuff trailing him around with no plausible explanation for what exactly he said and did and why they haven't tried to at least fix it."
But in the end, Maddow's O'Reilly commentary was all just a preamble to a larger conversation about the Supreme Court challenge to Obamacare and how, hopefully, cable news won't screw up its coverage of the ruling as badly as it did the last time this happened.
UPDATE — 12:00 p.m. ET: We reached out to Fox News for comment, and a spokesperson told us that Maddow "completely misrepresented" Fox's communication with the program. Upon MSNBC's request for comment late yesterday, FNC said they sent them the network statement, information from previous stories they asked about, as well as publishing contacts and other notable stories. The spokesman said the ratings were simply just one of the many things sent along and was to show that the controversy has only increased the numbers.
Watch video below, via MSNBC:
[Photo via MSNBC/screengrab]
— —
>> Follow Matt Wilstein (@TheMattWilstein) on Twitter
Have a tip we should know? tips@mediaite.com