Maddow: What is Sanders Fans' Grievance, 'You Got Debbie Wasserman Schultz's Head on a Platter'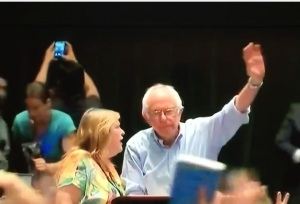 During Monday night's coverage of the first night of the Democratic National Convention, MSNBC's Rachel Maddow neatly summed up what many observers of the festivities thus far must be asking themselves: what exactly are Bernie Sanders' supporters so angry about? Despite admonitions from Sanders himself, delegates and convention-goers have continued to make spectacles of themselves by chanting anti-Hillary Clinton slogans, and booing any mention of Clinton's name, even by Sanders himself.
After gaining huge concessions in the Democratic Party platform, after securing an apology over the contents of leaked emails, after the resignation of DNC Chair Debbie Wasserman Schultz, after Schultz announced that she won't even appear onstage during the convention to gavel the proceedings, what, exactly, is their damage?
You see Jen Palmieri speaking for the Clinton campaign being incredibly complimentary of Bernie Sanders, signaling and indicating trust in Sanders, saying yeah, of course he should talk a lot about himself, he's earned it, he has a lot to be proud of, no, we don't necessarily even need to see the speech, we are working with them together on this stuff. To have that relationship overtly between the campaigns, if you are a progressive and you are looking at, whether or not this is your party, to see your guy Bernie Sanders treated that way by the Clinton folks, then to see the lineup of progressive speakers tonight, not just Sanders himself but Elizabeth Warren and Cory Booker and Raul Grijalva and all the Sanders supporters speaking, it is hard to explain what the grievance is, especially after you have Debbie Wasserman Schultz's head on a platter to start your convention. To say that you are so aggrieved that you will shut this thing down and basically try to ruin this as a political moment for Hillary Clinton is, is, is something.
It's an excellent question, and one which will drag painfully on all week for Democrats.
Have a tip we should know? tips@mediaite.com