Maher And Bernie Sanders Explode At GOP Panelists Over Obama's Economy: Where Were Deficit Hawks Under Bush?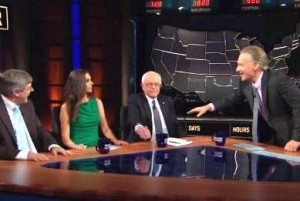 On Bill Maher's show tonight, Senator Bernie Sanders and Wall Street Journal columnist Steve Moore got into a number of heated back-and-forths over the state of the economy, which side is to blame for the crisis the country is in, and what the U.S. needs to do about greenhouse gases. At one point during an argument, Sanders loudly lamented that people like Moore are what make Congress a "dysfunctional institution."
Maher confronted Moore about his book blaming the poor economy on President Obama, telling him that it's hard to read his criticism as anything other than starting from the premise that he hates President Obama. Sanders pointed out that the big deficit hawks coming out of the woodwork under Obama said nothing about the deficit being run up under George W. Bush, but Moore shot back that under Bush revenues went up, and in general when rates are cut for the wealthiest Americans they contribute more to the economy.
Maher also challenged Moore on his assertion that the middle class is doing better today compared to a few decades ago. Moore pointed out how there was a big middle class boom from the early 1980s to the mid-2000s. Sanders disagreed, saying that the U.S. needs to prioritize things like rebuilding infrastructure and getting off fossil fuels.
Abby Huntsman pointed to wealthy Americans not wanting to invest because there's too many regulations and too much uncertainty in the market. Sanders shot back that Wall Street is sitting on trillions of dollars and not reinvesting at all. Moore confronted Sanders on how he wants to create jobs but opposes the Keystone XL pipeline, which Moore said would create thousands of jobs. Maher quipped, "What a small price to pay for everybody dying."
Moore argued that the oil and gas industry has been responsible for creating more jobs in the last five years than any other industry. Sanders immediately fired back, "This is exactly what we deal with in the United States Congress, which is why it's a dysfunctional institution." He and Moore got into another heated argument over natural gas and how much the U.S. will need to reduce its carbon consumption.
Watch the video below, courtesy of HBO:
—–
Follow Josh Feldman on Twitter: @feldmaniac
Have a tip we should know? tips@mediaite.com
Josh Feldman - Senior Editor