Maher and Guests Battle Over Whether Obama Governs 'Out of Fear of Assassination'
During the "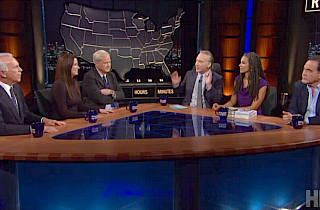 Overtime" online edition of HBO's Real Time, host Bill Maher posited that President Obama moderates his political positions out of fear of being assassinated, leading to a panel-wide battle over whether Americans are "subconsciously racist" against the president.
While lamenting with Oliver Stone about the short political career of John F. Kennedy, Maher suggested that bold leaders like JFK "always seem to, at the end of the day, get cut out of the picture, violently or otherwise. And maybe that is why Barack Obama is more of a centrist than we want him to be?"
"You think that?" Chris Matthews interrupted with a baffled expression. "Just curious that you really think that."
The president knows, explained Maher, that if he strays "too far to the left," he would stoke enough anger to be assassinated.
"That's an extraordinary statement," Matthews replied. "I'm amazed, I'm impressed you think that his policies are driven by fear of assassination."
Maher initially denied having said it "in those words," but ultimately agreed: "I'm sure it's something he probably thinks about at night." He added: "I don't think it's an insult to say that he might modulate his policies because he's afraid of all the hate."
That last remark started the panel down the road of discussing whether Obama is the "great mediator of the country," and whether Americans have a latent racism towards the president despite his policies mirroring previous white liberal presidents.
Watch below, via HBO:
— —
>>
Follow Andrew Kirell (@AndrewKirell) on Twitter
Have a tip we should know? tips@mediaite.com