Maher And Moore Clash With S.E. Cupp, Sorkin Over IRS: 'Is It Unreasonable To Target An Anti-Tax Group?'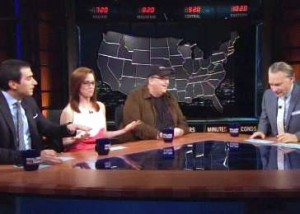 Bill Maher started off the panel discussion on his show tonight dismissing all the "bullshit" scandals facing the Obama administration this week, and even went so far as to question whether the IRS was acting in an irresponsible manner by targeting tea party groups. Considering the IRS is the big government tax-collecting agency, Maher asked if it was necessarily "unreasonable" of them to target groups so opposed to high taxation and the IRS.


RELATED: Nothing To See Here! O'Donnell Says IRS And Benghazi Are NOT Scandals: 'IRS Agents Did Nothing Wrong'
Maher acknowledged that the IRS scandal is a legitimate one, but said it's not really that big since Obama wasn't involved. Andrew Ross Sorkin took issue with that, arguing that the administration "clearly understood what was happening," and acknowledged that while "rogue folks" might have started this but ultimately it's a management problem that involves the White House.
Maher asked, "Is it unreasonable to target an anti-tax group?" He likened the IRS targeting tea party groups to the police taking cop-killing cases seriously. S.E. Cupp maintained that the tax code should not be used to punish people, while Michael Moore argued that these groups don't deserve tax-exempt status in the first place. He said tea party groups are only upset over a "longer questionnaire," but he admitted that liberals have also been unfairly targeted by the agency.
Maher partly blamed the scandal on Citizens United redefining what groups could get away with, saying that both conservative and liberal groups are "plainly trying to cheat" by trying to pass off their politically activist groups as groups promoting social welfare. Cupp said the scandal should not be a referendum on Obama, but an opportunity for the GOP to pursue tax reform.
Watch the video below:
—–
Follow Josh Feldman on Twitter: @feldmaniac
Have a tip we should know? [email protected]
Josh Feldman - Senior Editor