Maher Rails Against 'Stupid' Americans And GOP For Being Defiantly Anti-Science, 'Science Activist' Weighs In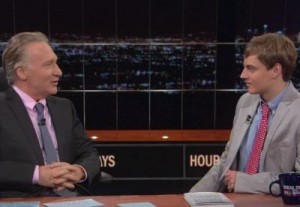 Bill Maher led an intense panel discussion on the reliability of science on his show tonight, with Maher, Abby Huntsman, Senator Bernie Sanders, and 19-year-old science education activist Zack Kopplin arguing with Wall Street Journal columnist Steve Moore over scientific consensus on global warming. Moore continually insisted the debate is not over, but Maher repeatedly explained how sound science is not up for debate and that Moore should "have the humility" to defer to actual scientific experts on the issue.
Maher rolled his eyes tonight at yet another example of why Americans are "stupid," citing polls showing a surprising number of people do not believe in global warming, still think Sadaam Hussein was behind 9/11, and believe President Obama is the Anti-Christ. Huntsman pointed out that the poll also found many of these same people also believe in Bigfoot, so we should take all of this with a grain of salt.
Kopplin said it's "scary" to think over a third of the American public doesn't believe in climate change. Moore argued that scientists believed that the planet was cooling just mere decades ago, insisting there is no scientific consensus on global warming. Kopplin and Maher shot back that there actually is a consensus, with Maher saying the only scientists "on the other side" are backed by corporations.
Moore expressed his frustration that liberals like Maher are trying to shut down debate, but Maher shouted at Moore that conservatives should "have the humility to believe people who know things you don't!" Maher said the debate is over, pointing out that science has pretty much ended debate on the shape of the earth, saying that "at some point, you reach a consensus, and you debate the next issue." Sanders blamed a "disinformation campaign" being waged by big corporations against the real science.
Maher then shifted to social issues, remarking how it's interesting that a lot of senators finally completed their "evolution" on gay marriage after seeing it has majority support. Abby Huntsman found it embarrassing that this is still a hugely controversial issue, but took some solace in the fact that old people "are going to die off, and it won't be an issue anymore." Moore pushed back against the idea that all gay marriage opponents are bigots, raising questions about why liberals who used to oppose gay marriage were never labeled thusly.
Watch the video below:
—–
Follow Josh Feldman on Twitter: @feldmaniac
Have a tip we should know? tips@mediaite.com
Josh Feldman - Senior Editor