Maher Battles GOPers On Obama's Speech: Unless People See Burning Crosses, They Think 'Racism's Over'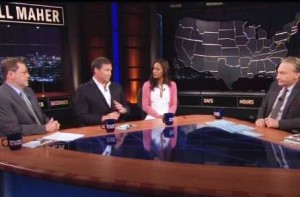 Bill Maher started the panel discussion on his show tonight with President Obama's remarks on Trayvon Martin and George Zimmerman. Maher told his mostly conservative panel that Obama's speech was "just asking conservatives to say we admit there is a problem," and while Connie Mack and Grover Norquist didn't give much pushback on that, they did clash with Maher and Rula Jebreal over the supposed racism of Stand Your Ground laws and whether black people are being disproportionately discriminated against under those laws in Florida and other states.
Maher charged that in America these days, unless there are people marching down the streets in KKK garb and/or burning crosses, racism is apparently over in America, and lauded Obama for pushing back against that. Mack credited Obama for speaking out on it and said there should be a debate, though Maher contended conservatives don't really want to have that debate. Norquist also noted that Obama touted America's "significant progress" on racial issues, and clashed with Maher over whether it would be more progress to give parents school choice a.k.a. vouchers.
Jebreal dragged the conversation back to Obama's speech and brought up Stand Your Ground. She said black people continue to be profiled all over the country, and blamed Stand Your Ground laws for letting Zimmerman get away with what he did. She battled with Norquist over the law's relevance in the case, while Mack, a former Florida congressman, piped up that when Stand Your Ground came up for a vote a few years back, not a single Democrat voted against it. Maher found the law and the precedent disturbing, because it says "if you are alone and unarmed and someone is stalking you, you better not fight back" because "they have the right to shoot you."
Norquist shot back that Stand Your Ground has been successfully used by blacks in Florida with a good acceptance radio. Jebreal shot back that all across the country, 70 percent of the prison population is non-white, and minorities are very disproportionately targeted by stop and frisk laws. She snarkily asked why "a man of numbers" like Norquist wouldn't know these stats. Maher added other stats showing all across the country, the Stand Your Ground defense is more likely to work if the person shot is black.
Jebreal also blamed the NRA for viewing America as a "Wild West where everybody can pretend to be a policeman." Maher also slammed the somewhat racist mentality that there would have been riots as a result of the Zimmerman verdict. Maher concluded the segment by asking his white guests, "Has anbody ever followed you in a department store?" Mack acknowledged he doesn't have the same experiences as people like Martin and Obama, but maintained that he's "not sure the facts are there right now" to say that Stand Your Ground is racist and should be repealed.
Watch the video below, via HBO:
—–
Follow Josh Feldman on Twitter: @feldmaniac
Have a tip we should know? tips@mediaite.com
Josh Feldman - Senior Editor