Maher: If Biden's Gaffe Forced Obama's Hand On Gay Marriage, 'Biden Must Make More Gaffes'
Maher: If Biden's Gaffe Forced Obama's Hand On Gay Marriage, He Must Make More Gaffes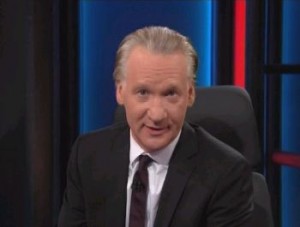 One cannot help but marvel at how the Obama administration's hand was forced on the gay marriage issue after a "gaffe" from Vice President Joe Biden on Meet the Press this week. Three days after the VP came out in favor of gay marriage, President Obama made his position known to the public. Bill Maher pointed out the interesting turn of events in his final New Rule of the night, saying that if all it takes for President Obama to finally make his position on a hot-button issue known is for Biden to preempt it with his own comments, Biden should be doing this more often.
RELATED: Joe Biden Apologized To Obama For Forcing His Hand In Gay Marriage Issue
Maher begged Biden to go back on Meet the Press and say, "Should marijuana be legalized? I'm high right now!" He offered people a choice on how best to get things done in this country.
"If we want historic change, we can either do it the president's way, slowly, using cool, detached reason, or the vice president's way, quickly using brainfarts… Maybe Joe's gaffe will be the turning point where Democratic politicians realize that doing the right thing on social issues can be a winner, politically, too."
Maher pointed to polls showing an increasing number of people support gay marriage, and that if President Obama wants to sail comfortably to reelection, he has to do it with the help of the Republicans and their views on this social issue. He predicted that with Obama coming out publicly on one side of this issue, Mitt Romney will end up talking a lot about "why he isn't for it" and that will offer a brutally stark contrast between the two candidates.
Watch the video below, courtesy of HBO:
Have a tip we should know? tips@mediaite.com
Josh Feldman - Senior Editor