Maher: People Call Bachmann 'Loon' and Scalia 'Serious' But 'They're The Exact Same Idiot'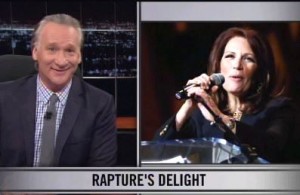 Bill Maher ended his show Friday night going after both Michele Bachmann and Antonin Scalia for being so open about their religious beliefs, saying even though Scalia's viewed as more serious than Bachmann, "they're the exact same idiot." Maher argued that anyone who honestly believes in things like the end times or Satan cannot be allowed to make decisions for the rest of the country.
Maher said, "If you believe we're living in the end times, like Michele Bachmann does, we get to take away the car keys." He brought up her comments about said end times for America, as well as Justice Scalia's references to Satan as a real entity in a lengthy New York magazine interview.
Maher was stunned at how honest Scalia was about his belief in Satan, saying, "I kept waiting for the transcript to say, 'Ha ha, I'm just fucking with you!'" He warned that people like this ruling on important political issues is like "smelling a gas leak and calling an exorcist," explaining why people like Bachmann and Scalia can't really be trusted to be a part of American government.
"You see the world divided into teams of good and evil and suspect the wily one may be on the side of THEM, and when you start seeing compromising with your opponents as a compromise with evil, well, there's the tea party."
Watch the video below, via HBO:
[photo via screengrab]
— —
Follow Josh Feldman on Twitter: @feldmaniac
Have a tip we should know? tips@mediaite.com
Josh Feldman - Senior Editor