It's a topic on which this writer has spilled plenty of ink, but one that goes largely ignored by mainstream media: The troubling militarization of local American police forces.
During his closing monologue of Friday's Real Time, HBO's Bill Maher aimed squarely at what has become a largely-unspoken civil liberties threat at home.

"Now that violent crime is at a 40-year low, someone has to explain why your local police department has gone from this to this," he demonstrated: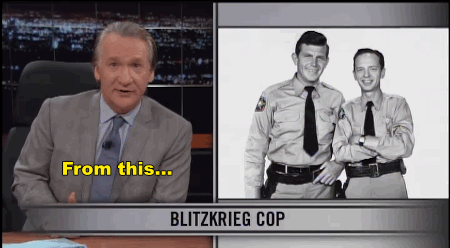 Maher ran through the gamut of American small towns (e.g. — Doraville, Ga., Nixon, Mo., Justice, Ill.) that somehow employ military-style tanks in their police departments. These tanks, often gifted by the Pentagon to police departments, come "fresh from our glorious victories in Iraq and Afghanistan," and are used for unnecessarily over-militarized police exercises.
-RELATED: Maher, Panel Tackle Rise of the Police State in America: They Can Turn Your Phone on Remotely!
"Cops all know what it's like when you get a new toy, you want to use it." he continued. "I bought a glue gun once, and by the end of the weekend my dog's face was stuck to the toilet rim. But in West Springfield, Mass., the police department's new toy is two grenade launchers. Why? In case Boko Haram takes Connecticut?" he joked.
Other interesting moments:
"Once you start dressing and equipping people like an occupying army, they start acting like one."
"We used to send SWAT teams only for hostage or active shooter scenarios. It happened a few thousand times a year. Now it happens a thousand times a week — forced, no-knock entries into private homes. And now for almost any reason at all like serving warrants, breaking up poker games, arresting low-level pot dealers. Come on. It's a guy who sells weed, you don't need to shoot his dog and crash through his window."
"In the '90s, conservatives used to warn about jack-booted government thugs coming to take away our freedoms. But where are those conservatives today when we need them? This is the massive expansion of government power that you numbskulls in the tea party should be freaking out about. You're always screaming about the loss of liberty, and how tyranny is coming. Yeah, it's coming right through the door with a battering ram, no warrant, and a stun grenade."
If you'd like more information about police militarization, check out Radley Balko's Washington Post blog for regular dispatches from that front.
Watch below, via HBO:
— —
>> Follow Andrew Kirell (@AndrewKirell) on Twitter
Have a tip we should know? [email protected]