Maher Savages SCOTUS Voting Rights Ruling: Pulled From Roberts' Ass, 'Racist' Scalia Using Fox Talking Points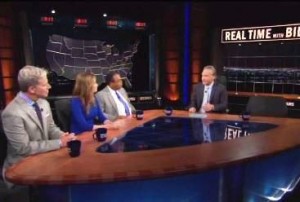 Bill Maher took the Supreme Court to task tonight for overturning a crucial portion of the Voting Rights Act this week. He said that Chief Justice John Roberts' justification was that racism is "not that big a deal anymore," and clearly "pulled [the ruling] out of his ass." But Maher had much harsher words for Antonin Scalia, whom he said is far worse a racist than Paula Deen, and accused the conservative justice of using Fox News talking points in his rulings.
Maher found it ridiculous that Roberts would think it wrong that people in the South aren't more racist than people in the North. Wall Street Journal columnist Dan Neil said that Paula Deen's defense of her once using the n-word is "precisely the same mindset as the old Confederacy." Maher added that while old racist practices like poll taxes are gone, the country is currently undergoing "racism 2.0" with voter ID laws and such.
Republican pollster Kristen Soltis noted that some parts of the Voting Rights Act are still standing, while conservative panelist Horace Cooper agreed with Roberts that it's not fair to judge who deserves scrutiny based on 40-year-old data. He specifically cited growing up in Texas, a state that Neil pointed out didn't even wait two hours before implementing its "very punitive voting restrictions."
Maher brought up Scalia saying that whey societies adopt racial entitlements, it's hard to get free of them. Maher found it mind-boggling that "he talks about black people voting as an entitlement," calling that comment "so much more racist than anything Paula Deen ever said." He called out Donald Trump, Sarah Palin, and Newt Gingrich for making far more racially insensitive remarks than Deen.
Cooper insisted the Department of Justice is "migrating away from actually enforcing" the law. Maher concluded that Roberts just "pulled [the ruling] out of his ass," and slammed Scalia for using some oddly specific talking points in his written decisions.
"He quotes talking points from Fox News, the things he was saying about the Defense of Marriage Act were the exact same thing I've heard idiots say on Sean Hannity's show. 'We're not a bigot because we're against gay people getting married!' Yeah, kinda, you are!"
Watch the video below, courtesy of HBO:
—–
Follow Josh Feldman on Twitter: @feldmaniac
Have a tip we should know? tips@mediaite.com
Josh Feldman - Senior Editor