Maher, Schweitzer, And Ben Affleck Clash With Rep. Issa Over Obama Admin. Response To Libya Attacks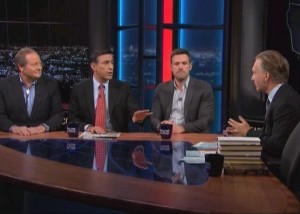 At the top of the panel discussion on Real Time tonight, Bill Maher first brought up the vice presidential debate and the refusal of many conservatives, as he saw it, to admit that Paul Ryan lost the debate. Issa honed in on Biden's response to the first question he got last night: the administration's response to the attacks in Libya. Darrell Issa said that when Biden explained "we" didn't know there was a need for more security, he was only referring to himself and Obama, since they were contradicting "sworn testimony" from State Department officials on the subject. Ben Affleck argued it would be unfair to think any president or vice president could recall specific security situations for every embassy and consulate across the world.
RELATED: NBC's David Gregory: White House Is 'Sowing More Confusion' On Benghazi Attack
Schweitzer shot back at Issa by accusing him of voting against the security funding that the consulate needed. Issa said that Republicans and Democrats supported funding in a "bipartisan basis." And to respond to Affleck, Issa said that presidents should not be too busy to read all the intelligence materials they're given. Affleck accused Issa of politicizing the tragedy, to which Issa insisted that he was most concerned with lying on the part of the Obama administration.
Schweitzer insisted that the administration was only saying publicly what was made clear through the intelligence at the time, telling him the Congressional hearings on the matter are just a "witch hunt." Maher said that this is the latest attempt by the GOP to look for a scandal to pin on the administration. Schweitzer told Issa it was hypocritical of him to want to investigate the Obama administration's foreign policy blunders, but not Bush's. Issa said that he in fact was involved in investigations of the Bush administration.
Maher disputed the idea that "Benghazi-gate" would make much play outside of Republican circles, and suspected that the GOP is trying to make Obama look like Jimmy Carter in the middle of the Iranian hostage crisis.
Watch the video below, courtesy of HBO:
—–
Follow Josh Feldman on Twitter: @feldmaniac
Have a tip we should know? tips@mediaite.com
Josh Feldman - Senior Editor