Maher Single-Handedly Rehabilitates Weiner: 'It Wasn't That Awful What You Did'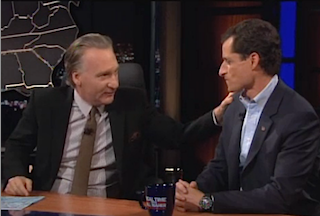 Bill Maher welcomed the now thoroughly disgraced Anthony Weiner to Real Time Friday night, and began by offering a defense of the sexting former congressman and mayoral candidate that his liberal friends over at MSNBC were unwilling to extend.
Maher began by declaring, "I have been the one person who has been saying that I found it so much more offensive–the self-righteousness than the 'crime' itself." The host recounted criticizing MSNBC's Chris Matthews for going after Weiner when "he's so in love with John F. Kennedy." Maher asked where the "perspective" have been on the Weiner story, calling what both JFK and former President Bill Clinton did so much more "dangerous" and "consequential" for the nation.
Weiner deflected what was a essentially a compliment from Maher by saying it's hard for him to do "meta-analysis" on his situation at this point. But when he talked about regretting the things he did, Maher countered by saying "It wasn't that awful what you did" and describing it as nothing more than an "off-beat hobby."
"This country needs to grow up a little," Maher said. "We are losing too much talent" due to situations like Weiner's that make him unfit for office in the eyes of Americans.
"I appreciate the sentiment," Weiner said when Maher had gotten his feelings off his chest. "But maybe I'm a little too close to it to put it in that context."
Before moving on to more substantive issues, Maher got in one more dig at an MSNBC host, this time Lawrence O'Donnell, who hosted what had to be the most over-the-top interview of the entire Weiner saga. "I love Lawrence O'Donnell too, but when he was like 'What is wrong with you?' I'm like 'What is wrong with you?'" Maher said. "Can we just step back from this and take a breath?"
Watch video below, via HBO:
Later, before Maher moved on to New Rules, he brought up the postponement of the New York mayoral debate on the anniversary of Hurricane Sandy. "Do we always have to wallow and re-grieve over every bad thing that's ever happened in this country?" Maher asked.
On this topic, Weiner had to disagree, saying Americans "don't take enough moments to just reflect on things." When Maher protested, citing the placing of the World Series trophy on the Boston Marathon finish line, Weiner shot back, saying, "That was a nice moment! What's wrong with you?"
"Wait a second!" Maher said. "I single-handedly rehabilitate you and then you give me the exact line that Lawrence O'Donnell gave you?!"
Watch video below, via HBO:
Have a tip we should know? tips@mediaite.com