Maher Suggests Zimmerman For Romney VP: Campaign Theme 'I Think The Black Guy's Up To No Good'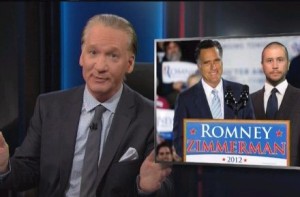 In his final episode before the summer hiatus, Bill Maher gave some totally unsolicited advice to Mitt Romney for who he should choice as his vice presidential nominee. Maher dismissed conventional choices like Chris Christie and Paul Ryan in favor of more imaginative picks: George Zimmerman, a Romney-Romney ticket, and, for a fun time all-around, none other than Bill Maher himself.
RELATED: Bill Maher Slams Romney On Twitter: A 'Rich Dick' Who 'Spent $122 Million To Win The Nomination'
Maher started his New Rule by joking that Romney must wait until he gets back from vacation before choosing a running mate, and admitted that deep down, he secretly wants Romney to win. Why? Because, according to Maher, he's a comedian and Romney is a goldmine of material. (Just like the goldmine harvested and owned by Mitt Romney. ZING!) But as for who Romney should pick for his vice president, Maher told the Republican why the more conventional choices aren't fully prepared.
Senator Marco Rubio? Maher said he has "intelligence, experience, and honesty issues." What about "beanbag chair" Chris Christie? Well, Maher admitted he can't look at Christie "without thinking number two." Paul Ryan? "A heartless smirking bastard" who is only adored by other "heartless smirking bastards," and according to Maher, Romney's already locked up that voting bloc.
Maher advised Romney to go with a more unorthodox pick, like none other than George Zimmerman. Why would Zimmerman be a good choice for Romney's VP? Maher rhetorically asked, "Who better than George Zimmerman to personify your campaign theme of 'I think the black guy's up to no good'?"
After suggesting an Indian tech support guy for Romney's VP, Maher suggested Mitt Romney might want to go with himself as his own running mate. However, such a bold move would not come without complications.
"Frankly, there are not that many issues where you have seen eye-to-eye with you. I mean, you like you as a person, but on policy it's gonna be kind of heard to bridge the gap between you and your stance on health care, immigration, gun control, abortion, climate change, campaign finance, Afghanistan, gay rights, space exploration, treaty of the sea, Megan's Law…"
RELATED: Chuck Todd Struck By 'Charismatic Contrast' Between 'Boring' VP Hopeful Rob Portman And Marco Rubio
But Maher's big game-changing VP pick was none other than himself. The comedian told Romney that Americans love split tickets, and they are certainly "complete opposites" on everything from marijuana to Mormonism.
Watch the video below, courtesy of HBO:
—–
Follow Josh Feldman on Twitter: @feldmaniac
Have a tip we should know? tips@mediaite.com
Josh Feldman - Senior Editor