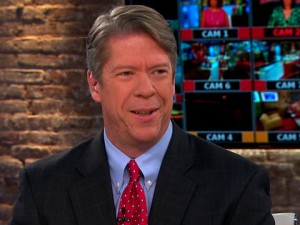 Major Garrett will be heading to CBS as the network's new chief White House correspondent, replacing Norah O'Donnell, who has shifted to her new role as host on CBS This Morning. Bob Schieffer made the announcement on CBS' Face the Nation.
Garrett was previously a White House correspondent Fox News, and moved to the National Journal in 2010. He will continue to pen a weekly column for the publication.
CBS News President David Rhodes sent out the following memo regarding the hire (via Huffington Post):
Jeff Fager and I are pleased to announce that Major Garrett is joining CBS News full time as Chief White House Correspondent.

Many of you have gotten to know Major over the course of Campaign 2012, beginning with our South Carolina debate last year, at the conventions, and right up through our coverage of Bob Schieffer's general election debate in Boca Raton.

Major is a tireless reporter and strong writer who will be a tremendous addition to our Washington bureau. He'll be on board beginning after the Thanksgiving holiday, joining Bill Plante, Mark Knoller, and Peter Maer on the beat next Sunday the 25th.

Nancy Cordes has come over from Capitol Hill to do terrific work at the White House since Norah O'Donnell transitioned to CBS This Morning in August. When you cover Congress it's an endless campaign, and so it has been for Nancy covering President Obama through the general election season all the way up through Election Night in Chicago.

We want to thank Nancy for all those long days on the campaign trail as she returns to the Hill just in time to cover the Fiscal Cliff debate and other huge challenges for all our platforms.

As you know, Major's work with CBS News this past year has come within the framework of a partnership between the news division and National Journal. Even as he joins CBS, that partnership continues, and he will contribute to National Journal as a Correspondent at Large.

Prior to National Journal, Major was the Chief White House Correspondent for Fox News. During his eight years at Fox, Garrett also covered two presidential elections, Congress, the war in Iraq, and other major stories. Before joining Fox News, Garrett was a White House Correspondent for CNN during two administrations. His credits prior to CNN include covering Congress for U.S. News and World Report and for the Washington Times, and general reporting for The Houston Post, Las Vegas Review-Journal, and Amarillo Globe-News.

Please join me, Jeff, and Chris Isham in welcoming Major to CBS News, and in thanking Nancy Cordes for her work at the White House as she returns to Capitol Hill.
Have a tip we should know? tips@mediaite.com