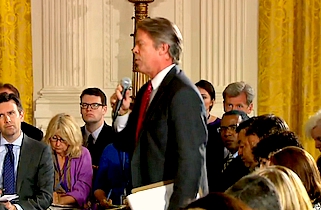 CBS White House correspondent Major Garrett took what the network called a "public scolding" from President Barack Obama after he asked about the White House's "contentment" with American hostages being left out of the Iranian nuclear negotiations.
"That's nonsense. You should know better," Obama said of Garrett's characterization of his "contentment." "Nobody's 'content,' and our diplomats and our teams are working diligently to try to get them out."
Garrett brushed off the "scolding" — one host suggested "spanking" — on CBS' news streaming network a few minutes later when questioned by anchor Contessa Brewer.
"Sometimes you have to take a scolding from a president to get to an answer," Garrett said. "That's part of my job."
"Politics, especially those elected as president, are very adept at creating straw men…that's exactly what the president did," Garrett said. "Clearly it struck an serve. That was my intention…Was it provocative? Yes. Was it intended to be as such? Absolutely."
Garrett said he didn't mean to imply that Obama was "content" leaving Americans hostage, but argued the administration has used the phrasing multiple times with families of the hostages, suggesting they would never be "content" with the situation — making it odd that the hostages were not part of the negotiations.
"Everyone…has heard the president say he's not content, and they will work overtime to win their eventual release," Garrett said. "That does not appear to me to be a sideline issue."
Watch below, via CBSN:
.@MajorCBS on question to Pres. Obama about American hostages: "Clearly it struck a nerve — that was my intention." http://t.co/xf83HW18EQ

— CBSN (@CBSNLive) July 15, 2015
[Image via screengrab]
——
>> Follow Evan McMurry (@evanmcmurry) on Twitter
Have a tip we should know? [email protected]