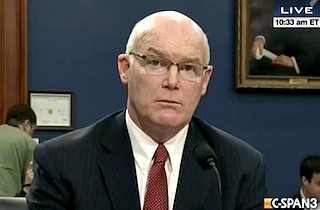 Secret Service Director Joseph Clancy appeared before the Homeland Security subcommittee of the House Appropriations Committee Tuesday morning and took it on the chin for a report that Secret Service agents had drunkenly crashed a car into a White House barricade. The event follows a number of scandals over the past several years that have tarnished the reputation of the agency and led to the resignation of Clancy's predecessor Julia Pierson.

"It breaks my heart to think that one of the agencies that has been a legend among the American people in the last six years has just gone downhill substantially. It's a crime," Subcommittee Chair John Carter (R-TX) said. "Our people need heroes."
"You got a big job, and you're going to have to make heads roll," Carter continued. "If there's a place to send people in your agency that's the Mojave desert of the Secret Service, maybe some people need to be sent to the Mojave desert."
RELATED: Stewart Gives Secret Service an Intervention: 'Stop Drinking So F*cking Much'
"To be candid, I have been away for several years and was not as familiar with these policies as I should have been," Clancy testified about the protocols for when agents can drink. "They have to be readdressed."
Clancy was also lectured by Committee Chair Harold Rogers (R-KY) for not pursuing his own investigation, which left him unable to answer a number of questions about the incident. The incident was originally reported by the Washington Post.
"I'm disappointed that you have not waged your own vigorous, tough investigation," Rogers said. "To say you're not investigating because you want the inspector general of the department to investigate is hogwash."
"We gotta have some changes," Rogers said. "And you've gotta be the one who makes those changes. And I don't sense at this moment that you have the determination to make that happen."
Watch the clip below, via C-SPAN3:
[Image via screengrab]
——
>> Follow Evan McMurry (@evanmcmurry) on Twitter
Have a tip we should know? tips@mediaite.com