Malkin Battles Carville On Everything From 'Notorious Witch-Hunter' Bill Clinton To Calling Benghazi 'Nothing'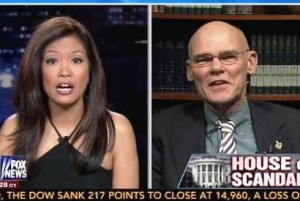 James Carville and Michelle Malkin squared off on Sean Hannity's show in a debate that touched on both the IRS and Benghazi scandals. Malkin was surprised at how much Carville agreed with the outrage over the IRS scandal, but on Benghazi, Malkin confronted Carville for saying last month that Benghezi is "nothing" and "a scam."
Carville told Hannity that he's very disturbed about the IRS targeting conservative groups, saying the targeting of anyone for their political beliefs is "offensive," and added that he doesn't blame Republicans "for asking questions about this." After a brief moment of shock, Malkin was quick to point out that the Obama administration's targeting of political enemies was merely a "perfected version" of what happened under Carville's former boss, the "notorious witch-hunter in chief" Bill Clinton.
RELATED: Malkin To Kelly: IRS Not Just Scandal Because Of 'Ideology,' But Because Of Obama's 'Brass-Knuckled Intimidation'
Carville laughed it off, and did qualify his thoughts to say it's "pretty far out there" to accuse the White House of being involved. Malkin interrupted Carville and rolled her eyes at his assertions, to which Carville remarked, "Are you gonna allow me to talk or are you just gonna interrupt me the whole time?"
On the subject of Susan Rice's NSA nomination, Carville gave a candid response to Hannity's assertion that appointing her was just to "poke people in the eye."
"I don't think he cares what you think or I think or anybody else does. I think he thinks that he's entitled to this appointment of this person. He's got a qualified person that he likes a lot, and he wants her in that position."
Malkin declared the nomination to be a "middle finger to all of the victims of the Benghazi disaster," and then brought up Carville's comment last month that Benghazi was "nothing." Malkin angrily scolded, You tell that to the four victims who died at Benghazi." When Carville looked mildly amused at the query, Malkin sarcastically added, "I know it's so funny to you… it's not."
Carville insisted he did not downplay the significance of the Benghazi attacks, but the segment ended before he could elaborate further.
Watch the video below, courtesy of Fox News:
—–
Follow Josh Feldman on Twitter: @feldmaniac
Have a tip we should know? tips@mediaite.com
Josh Feldman - Senior Editor