Malkin: Liberal's Attack On National Anthem Example Of Left's 'Hostility' Towards 'Patriotism In This Country'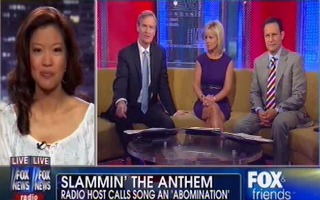 Conservative columnist Michelle Malkin appeared on Fox & Friends on Thursday where she called liberal radio host Bill Press' attack on the National Anthem to be a "teachable moment" and an example of "how much hostility these people have towards patriotism in this country."

RELATED: Liberal Radio Host Bill Press Goes On 'Major Crusade' To 'Get Rid Of The Star-Spangled Banner'
On Press' radio program Tuesday, he said that he is "embarrassed" by the lyrics in the National Anthem:
Bombs bursting in air rocket's red glare it all kinds of, you know a lot of national anthems are that way, all kinds of military jargon and the land there's only one phrase 'the land of the free' which is kind of nice and 'the home of the brave?' I don't know. Are we [Americans] the only ones who are brave on the planet? I mean all the brave people live here. I mean it's just stupid I think," Press concluded. "I'm embarrassed; I'm embarrassed every time I hear it.
"I didn't realize he was still on the air," said Malkin. "The last time Bill Press was relevant was when Bill Clinton was in office. So, I think this really is just a desperate attempt attention."
Malkin went on to say that she felt this was a telling example of liberalism's rejection of the notion of American exceptionalism.
What's telling to me is just the radical progressive rejection of American exceptionalism. I mean, the musical critique – fine. He can't sing more than an octave. Whaa! Call the wambulance. But it's this idea that he rejects that America has exhibited more bravery than other countries on this planet. And I think there is a teachable moment there about how much hostility these people have towards patriotism in this country.
"[It's] also a teachable moment for our young people in this country," added co-host Gretchen Carlson. She said that she feels pride and dignity when she sings the National Anthem and not embarrassment over the fact that the song makes no mention of the bravery of other nations.
"You know Bill Press? Go ahead and compose the moral equivalency, apologist citizen-of-the-world anthem and see how many people are going to sing that at the next baseball game," Malkin concluded.
Watch the segment below via Fox News Channel:
Follow Noah Rothman on Twitter
Have a tip we should know? tips@mediaite.com