Malkin On Fox: Alec Baldwin's 'Hate Speech' Far Worse Than Anything Rush Limbaugh Has Ever Said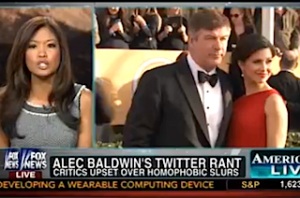 Monday afternoon on Fox, Megyn Kelly and Michelle Malkin took on the media's "double standard" when it comes to liberals like Alec Baldwin versus conservatives like Rush Limbaugh. Malkin argued that Baldwin's "homophobic" Twitter "hate speech" against a reporter who criticized his wife for tweeting through James Gandolfini's funeral goes far beyond anything Limbaugh has said on the radio.
Kelly expressed her own outrage over the fact that Baldwin hasn't found himself in more trouble after publicly calling The UK Daily Mail's George Stark a "toxic little queen" and making other suggestive threats. Baldwin "said I apologize and I didn't mean it and, wow, GLAAD doesn't seem that upset about it anymore. They took that apology very quickly and said his words yesterday don't match his history of actively supporting our community."
"How lovely to have such apologists rush to your side and excuse what normal, decent people saw as homophobic slurs, but far worse." She pointing to comments Baldwin made about tweeting at Stark's funeral as full-on "death threats."
"He gets a pass for any number of reasons," Malkin continued, "and one is being part of the Hollywood establishment." She highlighted the double standard" between how someone like Paula Deen has been "vilified and crucified" versus the relatively soft treatment that Baldwin has received.
Kelly pointed out that Rush Limbaugh has given "millions and millions" of money to charity, but he has been forced to apologize for statements and has lost advertisers. "His charitable past didn't seen to soften anyone's assessment of him," she said.
This led Malkin to highlight the "main difference" between Limbaugh and Baldwin in her assessment. "Rush Limbaugh is trying to make a political point, an ideological point," she said. He is arguing on public policy grounds and sometimes he does it in very entertaining ways or her pushes the edge. But it is never the kind of completely untethered hate speech and physical threats that Alec Baldwin has been responsible for over the years."
Watch video below, via Fox News:
—
>> Follow Matt Wilstein (@TheMattWilstein) on Twitter
Have a tip we should know? tips@mediaite.com