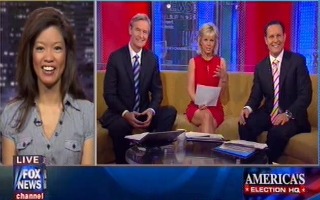 Michelle Malkin appeared on Fox & Friends this Thursday to discuss the findings in the latest Fox News poll that shows President Barack Obama retaking a 7 point lead over Mitt Romney with 46 to 39 percent of the vote. Malkin said Romney's camp should not be "whitewashing" these results and needs to "take the mitts off" of the campaign and go after Obama personally and abandon the strategy of portraying him as a nice individual that is in over his head.

RELATED: Michelle Malkin: Obama's Gay Marriage Endorsement A 'Campaign Finance Decision'
Co-Host Steve Doocy first asked Malkin "what's a life coach," in reference to a portion of that poll that found respondents prefer to have Barack Obama as a life coach with 47 percent of the vote to Mitt Romney's 34 percent.
"A hand-holder," said Malkin. "A coddler. A panderer."
Co-host Gretchen Carlson asked Malkin to weigh in on a portion of the poll that showed good news for Romney, 50 to 44 percent who are "very interested" in the upcoming election support Mitt Romney – suggesting a small but measurable enthusiasm gap.
Malkin said that the Romney campaign must take advantage of that disparity:
It shows the more people know, the more they are truly informed – as opposed to being preached to by the water-carriers in the media – the more they like Mitt Romney and dislike Obama for a second term. I thin that really needs to be mined by the Mitt Romney campaign. They have an educational and, you could call it an evangelical, mission to make sure that people don't merely consume the fables that are recycled by this white house at taxpayer expense and regurgitated by the White House press corps.
Co-host Brian Kilmeade and Malkin noted that the 2012 Obama reelection team appears to be less savvy with attacks and online media campaigns than the 2008 Obama campaign was, despite their evident success in the Fox News poll. Carlson noted that fact when she said, "that poll is not all great news for Mitt Romney."
"No it's not," said Malkin. "There should be no whitewashing or sugar coating of these poll results by Mitt Romney or his campaign."
"He needs to take the gloves off, or the mitts off, or whatever," Malkin continued. "He's gotta throw down. And I've said before that he's got to give up this narrative, that surely the White House appreciates, that Obama is merely a nice guy who is misinformed or mislead or has his heart in the right place but not his brain. No!"
Malkin said that the Romney campaign must highlight the "corruption and the payoffs and the bribes" in which she alleges the Obama White House is complicit.
Watch the segment below via MSNBC:
Have a tip we should know? tips@mediaite.com