Malkin: Reporters Coordinating Questions Shows Media Are 'Tools' And 'Stenographers' For Obama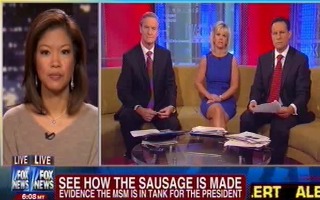 On Wednesday, audio of reporters coordinating their line of questions ahead of a press conference by Mitt Romney caused a controversy. The reporters were captured planning to ensure that Romney was asked if he regretted the tone and timing of his statement condemning President Barack Obama's response to Tuesday's embassy attacks. On Thursday, conservative commentator Michelle Malkin weighed in on that controversy morning on Fox & Friends.

RELATED: Open Mic Catches Reporters Coordinating Questions Ahead Of Romney Press Conference
Steve Doocy played the audio of CBS reporter Jan Crawford and NPR reporter Ari Shapiro coordinating their questioning ahead of Romney's Wednesday morning press conference. Doocy said that he had recently spoken with The Hill columnist Juan Williams who told him that coordinating a line of questioning ahead of a press conference was a common practice among reporters.
Malkin did not seem to buy William's explanation for the reporters' behavior.
"If it looks, sounds, talks like journo-tools for Obama, it is what it is," said Malkin.
She said that Tuesday's press conference with Romney in particular exposed the press corps as "tools" and "stenographers" for the White House. Malkin said the real story that went ignored was "Obama's dereliction of duty" and not Romney's.
"Once you ask the question that you've all agreed upon, then don't you move on to question number two," asked Gretchen Carlson. "But they didn't. They asked that questions six or seven times."
Malkin related the story of Journolist, an online group in which political reporters discussed issues in their industry and talked about the state of politics during 2008 before the list became public and was eventually disbanded.
"Mainstream journalism is dead and thank god for outlets like Fox News, the blogs, talk radio and citizen journalist who can speak truth to power thanks to Twitter and Facebook," said Malkin. "That's how this off mic audio got out there in the first place."
She went on to attack the media for reporting that Islamic militants were motivated to attack U.S. embassies in North Africa by a film put out by an American filmmaker which insulted Islam. Malkin said the film was made in June and was merely used as a pretext for the attack.
Watch the segment below via Fox News Channel:
> >Follow Noah Rothman (@Noah_C_Rothman) on Twitter
Have a tip we should know? tips@mediaite.com