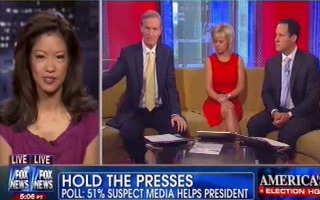 Michelle Malkin's mistrust of the media is well known. In her most recent column, she details what she considers a flood of high profile journalists revealing either their pro-Barack Obama biases or the pressure they feel to be kinder to the President in their coverage than to Mitt Romney. Malkin said that these reporters now feel comfortable admitting that they are "tools for Obama," and questioned whether Republican politicians should participate in debates moderated by professional journalists.

RELATED: Michelle Malkin To Hannity: Biden's Remark Is 'Blatant Racist, Racialist Pander'
Steve Doocy asked Malkin first for her opinion on a recent Rasmussen Reports poll which showed 51 percent of likely voters believe "most reporter work to re-elect President Obama." Only 9 percent said the media was working to elect Mitt Romney and 22 percent thought the media was unbiased.
"I think public opinion is finally catching up with long-term reality," said Malkin. She said she thought it was interesting that these numbers come out amid accounts by reporters that they are being pressured by the White House to "toe the line."
Brian Kilmeade noted that Malkin's most recent opinion column quotes several well-known reporters who have said that the media is generally friendlier to Obama's campaign than Romney's.
"You look at Jake Tapper, you look at Chuck Todd and you also quote Mark Halperin on the Today Show over the weekend essentially saying what you have been saying for the last four years," said Kilmeade.
"They're admitting that, 'yes, we are tools,'" said Malkin. She said that the GOP has gone along with a "rigged game" by participating in the debates because they are moderated by high profile journalists who may not be entirely neutral.
"Why can't we have somebody who is honest about their biases be up there on the stage," said Malkin. "Why does it have to be the same homogeneous group of liberal group-think mongers up there?"
Watch the segment below via Fox News Channel:
> >Follow Noah Rothman (@Noah_C_Rothman) on Twitter
Have a tip we should know? tips@mediaite.com