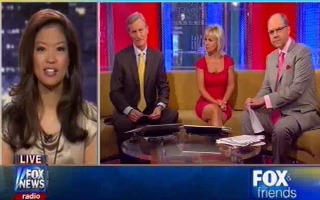 Conservative columnist Michelle Malkin appeared on Fox & Friends on Thursday to relate her impression of Romney's speech to the National Association for the Advancement of Colored People on Wednesday. She said that she thought his being booed after he promised to repeal the Affordable Care Act was "obnoxious" and took on Congressional Black Caucus Chairman Rep. Emanuel Cleaver (D-MO) who she claimed said that criticizing Resident Barack Obama is "racist."

RELATED: Mitt Romney Reacts To NAACP Booing: 'We Expected That, Of Course'
"What did you make of the fact that when he talked about repealing Obamacare, he got booed," asked co-host Steve Doocy.
"I thought it was obnoxious," Malkin replied. "I understand from Congressman Cleaver – Emanuel Cleaver – that apparently it's racist to criticize the President at all, but somehow it's fine to receive a guest – and invited guest – in the way that booing audience did."
Malkin said that she first thought that Romney could have handled that moment differently, but most of her circle of conservatives on Twitter felt that he dealt with the booing as well as he could have.
"You've got to give him a huge amount of credit for going into such a loaded lion's den and it raises the question of when Barack Obama is ever going to step outside his thick, protected bubble and do anything at all similar to this," Malkin continued.
Co-host Gretchen Carlson noted that Rep. Cleaver gave Romney an "A" for showing up to the NAACP conference, but he said that the booing moment was "predictable" when you advocate that position before an audience that largely supports the ACA.
"He's demanding that Romney have pandered to this audience," said Malkin. She says that the premise that the African-American community wholly supports health care reform is not correct and Romney was good to attempt to persuade them.
Finally, Fill-in host Peter Johnson played a clip of Romney saying he would defend traditional marriage. Malkin said that only social media and Fox News played a clip of that moment showing Romney getting applause from the NAACP.
"It's the great big secret that people in the African-American community and African-American church leaders support traditional marriage and there is nothing racist or bigoted about it," said Malkin.
Watch the segment below via Fox News Channel:
> >Follow Noah Rothman (@Noah_C_Rothman) on Twitter
Have a tip we should know? tips@mediaite.com