Malkin Slams NYT's Anti-Tim Scott Op-Ed: Mocking Minority Conservatives 'An Almost Incurable Disease'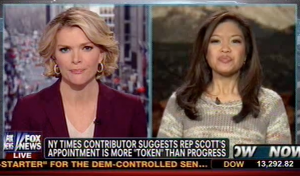 On Thursday, Michelle Malkin spoke to Fox News' Megyn Kelly about the New York Times contributor who deemed Rep. Tim Scott — South Carolina Gov. Nikki Haley's pick to replace Sen. Jim DeMint — a "token" more than a sign of progress. Malkin was not pleased. To say the least.
RELATED: New York Times Calls Only African-American In The U.S. Senate A 'Token'
In the op-ed in question, University of Philadelphia Prof. Adolph Reed Jr. wrote:
But this "first black" rhetoric tends to interpret African-American political successes — including that of President Obama — as part of a morality play that dramatizes "how far we have come." It obscures the fact that modern black Republicans have been more tokens than signs of progress.
[…]
The trope of the black conservative has retained a man-bites-dog newsworthiness that is long past its shelf life. Clichés about fallen barriers are increasingly meaningless; symbols don't make for coherent policies. Republicans will not gain significant black support unless they take policy positions that advance black interests. No number of Tim Scotts — or other cynical tokens — will change that.
"This impulse to denigrate, mock, and to insult minority conservatives is almost an incurable disease among the left," Malkin said. "Every minority conservative has to go through this type of gauntlet when it comes to stepping out and being prominent and outspoken about your viewers."
Successful minority conservatives who gain popularity are "threat to the liberal monopoly," she added. "There is nothing more dangerous to liberals than the liberated mind of a minority conservative."
To that point, Kelly remarked that even the celebration of Scott's rise is, in Reed's view, "a result of a desperate need to woo voters." The Times' board doesn't practice what they preach, Malkin replied. But conservatives are "trying to counter the monopoly" of those narratives.
Watch below, via Fox News:

Have a tip we should know? tips@mediaite.com