Malkin To Megyn Kelly: Admin's 'Dripping Condescension' On Benghazi 'Makes Me Want To Throw Up'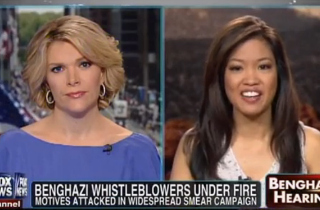 Conservative columnist Michelle Malkin appeared on Fox's America Live this afternoon to excoriate the Obama administration for what ABC reports as the State Department's 12-time revision and scrubbing of talking points in the aftermath of last September's Benghazi attacks. Malkin also tore into the feds for their treatment of the so-called Benghazi "whistleblowers."
After host Megyn Kelly ran through a series of clips showing administration spokespersons acting dismissively towards the whistleblowers like Gregory Hicks, Malkin said: "The dripping condescension of that State Department flack makes me want to throw up. Especially after these three, in particular Greg Hicks, gave such moving, detailed, and comprehensive testimony about what they knew, what they saw, and what this administration didn't do."
Kelly and Malkin agreed in lamenting how The Weekly Standard's Stephen Hayes had obtained the administration's revisions long before it reached the mainstream media, but somehow the story becomes news now that ABC News reports it. The pair also posited that in the wake of this morning's revelations about talking-point revisions, Democrats will likely attempt to push back on the whistleblowers' credibility.
"This war on whistleblowers has been a hallmark of the Obama bully brigades," Malkin asserted. "I warned about it on Wednesday morning, before these hearings, that the smear merchants were gearing up."
The pair then lamented that some in the press will likely assist the Democrats in "attacking the messengers" by insisting that the whistleblowers have "axes to grind" or are simply "lying" in their testimony about the administration's reaction to the attacks.
Watch the full segment below, via Fox:
— —
>> Follow Andrew Kirell (@AndrewKirell) on Twitter
Have a tip we should know? [email protected]