Malloy to 2016 Hopefuls: Nobody Who Defends Indiana Law Qualified to Be President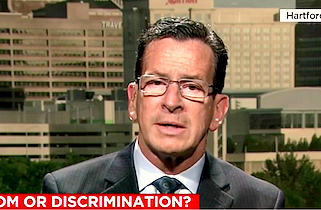 Connecticut Governor Dan Malloy (D) — introduced by CNN's Carol Costello as the Mayor of Hartford — called for a widespread boycott of Indiana by companies headquartered in the state in response to the controversial new "religious freedom" bill, and told 2016 hopefuls defending the law was a disqualification from the White House.
"He got caught," Malloy said of Indiana Governor Mike Pence (R). "He gave a disastrous interview on national TV where we he wouldn't say he was against discrimination. It's time for the people of Indiana to admit this is an unbelievable embarrassment to their state."
Malloy signed an executive order yesterday barring state-funded travel to Indiana, a move quickly followed by Washington state. Tuesday he called on the NCAA and national chapters of fraternities and sororities to move their headquarters from the state if the law isn't amended.
RELATED: Can Connecticut Criticize Indiana When It Has Its Own 'Religious Liberty' Law?
"You can't have it both ways," Malloy said. "Either you are for discrimination or against it. The law was specifically written to allow companies and individuals to exclude services being provided to individuals based on sexual orientation. There is no gray area here…You can't defend it. If [the Indiana legislature] doesn't solve the problem companies and associations need to move out of the state."
In response to GOP presidential hopefuls who have supported the law, Malloy said, "None of the people who would defend this law in Indiana — the debate that took place about the law, its passage, the ceremony — none of the people who would defend it are qualified to be President of the United States."
Watch the clip below, via CNN:
[Image via screengrab]
——
>> Follow Evan McMurry (@evanmcmurry) on Twitter
Have a tip we should know? tips@mediaite.com