Man Accused Of Injecting Women's Butts With Cement Is Attacked By Victim And Her Mother On Talk Show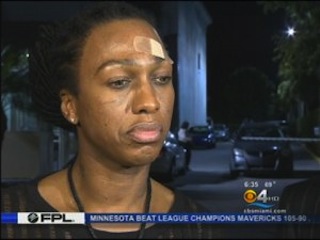 Here's a story that's insane in more ways than I can count. In Florida, a woman named Oneal Ron Morris is being prosecuted for tricking women into receiving a toxic butt-injection made up of "Fix-a-Flat, cement, mineral oil and superglue" that ended up leaving them horribly ill and disfigured. Morris' accused assistant, Corey Eubanks, went on the Miami-based talk show Palante con Cristina to discuss the case. However, during the taping, one of the victims and her mother who were also guests on the show, allegedly attacked him with a syringe that was being used as a prop.
Like I said, insane.
The victim in question is Shaquanda Brown, a mother of two, who spent 38 days in the hospital thanks to the injections. She claims that it was actually Eubanks who started the fight on the set.
From CBS4 in Miami:
"Wednesday night, she appeared on the Spanish language show for what she thought was a show about fake cosmetic procedures.

But 20 minutes before show time, Corey Eubanks joined Shaquanda on the stage.

She said things got out of hand after Eubanks accused her of lying.

While Eubanks alleges Shaquanda's mother attacked him, Shaquanda said that's not true.

'He came after me. No one attacked him,' said Shaquanda."
There are conflicting statements from all the witnesses as to who attacked who first and the show hasn't released the video of the incident yet, so the police are waiting to see if they'll press charges.
Want to know the really insane part? This whole "poisonous, fake butt implant" thing is more common than you'd think. Ladies, please do not let weirdos inject chemicals into your butt. It's just not a good idea.
Watch an interview with Eubanks from CBS4 below:
Have a tip we should know? tips@mediaite.com