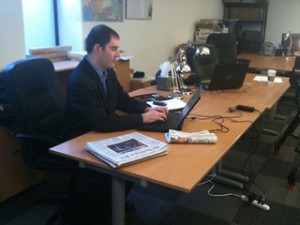 Here's a fun story for anyone who hates waking up early and loves sticking it to the man. At 4:33 am on Wednesday morning, Maryland-based lawyer Aaron Titus was awoken by a robocall from his children's school alerting him that there would be a snow delay. Titus was furious that he'd been woken up when he already knew about the delay, so he did what anyone else would; he robocalled them back.
Titus went online and found a robocall company as well as as many phone numbers for school board members as he could find. The next morning at 4:30, they received this message:
From the Washington Post:
"'This is a Prince George's County School District parent, calling to thank you for the robocall yesterday at 4:30 in the morning. I decided to return the favor. While I know the school district wanted to ensure I drop my child off two hours late on a snow day, I already knew that before I went to bed. I hope this call demonstrates why a 4:30 a.m. call does more to annoy than to inform.'

It ended: 'Quit robocalling parents at 4:30 in the morning or at least allow us to opt out of these intrusive calls.'"
The story's pretty hilarious and, as such, has been all over the Internet today. However, Fox News' report had two special bonuses. First, they had audio of the actual call. And, second, they had video of Megyn Kelly getting the giggles over it.
(photo via My Fox DC)
Watch the clip from Fox News below:

Have a tip we should know? tips@mediaite.com