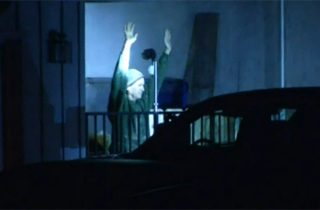 A dispute over a house painting contract led a man to shoot San Diego sports anchor Kyle Kraska ten times yesterday, and has a history of threatening other people over business transactions.
Kraska, who is currently in stable condition, was allegedly "targeted" by Mike Montana months after Kraska cancelled a contract for Montana to paint his house, reimbursing him for supplies and time and citing his flakiness "He didn't owe the guy any money. They had completed their transaction and the guy came back and started demanding more money from Kyle," Todd Villalobos, Kraska's sports producer, told CBS 8 (the channel Kraska works for).
CBS 8 also reports that Montana also has a history of threatening behavior and shady legal history:
Frank Coit says he had to let Montana go after he stopped showing up on a regular basis, and like Kyle, Coit was not pleased with the work that had been done. When he parted ways with Montana Coit says his son started getting voice mails.

"Not direct threats, but talking about his guns and how much… how good of a marksman he is and all that. So, insinuated threats. And then it got to the point the girls in the office didn't want to come to work because they were scared of him," Coit said.

Court records show Montana has been involved with several civil lawsuits, owes nearly $2,000 in back taxes and was served with papers last year, accused of owing more than $5,000 in delinquent rent.

Sheriff's officials believe Montana also threatened a DMV employee in November because he didn't have enough money to pay his fees. He was gone when deputies arrived.
Montana was arrested last night after a brief standoff with the police.
Watch the raw footage of Montana's arrest below, via NBC San Diego:

[h/t Deadspin]
[Image via ____]
—
>> Follow Tina Nguyen (@Tina_Nguyen) on Twitter
Have a tip we should know? tips@mediaite.com