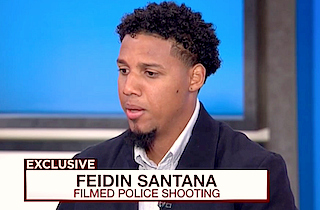 Speaking to Morning Joe Thursday morning, Feiden Santana, who filmed the fatal shooting of Walter Scott by a South Carolina police officer, gave further details about the scene, including the fact that officers never attempted CPR upon Scott as they had claimed.
Officer Michael Slagar had originally reported that he shot Scott after a dispute over a traffic citation in which Scott tried to grab his stun gun; Santana's video showed instead that Slagar shot Scott as he was fleeing and appeared to plant the stun gun next to his body. Santana's video led to murder charges for Slagan.
Feiden said he tried to bring the recording to the police but got a bad feeling from the officers and left the station. "It was good he left," his attorney told Morning Joe. "He was surrounded by officers who have lied repeatedly. They said they performed CPR; they didn't."
RELATED: Man Who Filmed Walter Scott's Death Held Video; Waited to See if Police 'Continued with the Lies'
Willie Geist asked about a gap in Feiden's video and wondered if the officers had performed CPR on Scott then. Feiden said he did not see the officers do anything more than check Scott's pulse and examine his back for wounds. Feiden also said he did not hear Slagar yell "stop" at Scott before he fired at his back.
Santana told MSNBC yesterday that he was scared of police reaction and almost erased the video. This morning, Geist praised Santana's courage for staying on the cene in the face of an armed officer.
Watch the clip below, via MSNBC:
[Image via screengrab]
——
>> Follow Evan McMurry (@evanmcmurry) on Twitter
Have a tip we should know? tips@mediaite.com