Manti Te'o And Parents All Break Down In Tears After Katie Couric Suggests He Could Be Lying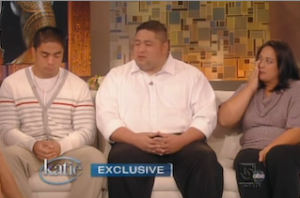 The first televised interview with Notre Dame linebacker Manti Te'o and his parents ended in tears today after Katie Couric asked them what it feels like to be accused of willfully deceiving the public.
By bringing up the possibility that the elaborate hoax involving Teo and a fake girlfriend who had allegedly died of leukemia was actually perpetrated by Teo himself, Couric elicited the most strongly emotional reaction of the day from her guests.
Towards the end of the hour-long interview on her syndicated talk show Katie, Couric said to Teo's parents, "Many people are calling your son a liar, they're saying he manipulated the truth, really for personal gain."
Defending her son, Ottilia Te'o responded, "He did exactly what I would expect a responsible, respectable young man to do, to extend himself to someone who said that they lost their father and now they have cancer…. It just hurts to see, you know, his picture and his name being displayed as someone what is dishonest."
Struggling through his hears, Te'o expressed that the "hardest part" about the ordeal has been seeing his parents suffer. "Because, the greatest joy in any child's life is to make your parents proud. The greatest pain is to know that they're experiencing pain because of you."
Finally, his father Brian Te'o began to cry as he said that if Manti was lying, then the whole family was lying. "Because the story about this, as bizarre as it may seem, was reality for us." He continued, "I'm proud of this guy. I really am. And nothing that has happened in the last couple of weeks is going to take that away. He's not a liar. He's a kid. He's a 21-year-old kid trying to be a man. And I love him. I really do."
By the end of the segment, all three Te'o were wiping tears from their eyes as Couric cut to commercial.
Watch video below, via WCVB-TV:
—
>> Follow Matt Wilstein (@TheMattWilstein) on Twitter
Have a tip we should know? tips@mediaite.com