Marc Lamont Hill and CNN Panelist Battle Over Whether Race Being Ignored in Chris Lane Murder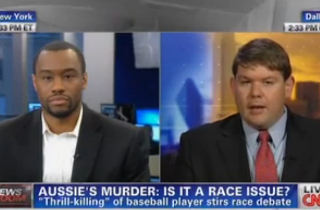 CNN's Newsroom panel got a bit heated this afternoon when conservative radio host Ben Ferguson and HuffPost Live host Marc Lamont Hill duked it out over whether the media has purposely avoided making race an issue in the murder of 22-year-old college athlete Chris Lane.
Lane was shot and killed last week by three teenagers — two black, one white — who reportedly did it because they were "bored." Since then, conservative pundits have alleged that the media coverage of the case has intentionally skirted the race of the killers, unlike how the death of Trayvon Martin ultimately became a conversation on racial divides.
Contrary to that narrative, liberal pundit Hill asserted that "the media coverage on this has been probably more intense than it was on Trayvon right after it happened. It took months for the Trayvon Martin controversy to come to the national media. And it only came to the national media because [Zimmerman] wasn't arrested…. Here, the alleged killers have been arrested, they've been charged."
Conservative talk radio host Ferguson, on the other hand, suggested that if Lane were black, leaders like Al Sharpton would be stoking outrage.
"In this case, it's a white kid that was profiled," Ferguson asserted. "We now know from some of the tweets from one of the guys that had the gun, that he said, 'White people disgust me,' and another time he said, 'I hate all white people.' … This is a crime that it's pretty obvious had some racial implications to it."
Hill conceded that the killing of white student Lane constitutes a "hate crime" in this instance, but reiterated that there is no "double standard" here regarding media coverage. In return, Ferguson said that if "white pastors" come out to condemn the murder the way Sharpton, et al, had done after Martin's death, "they'd be called racist because of the double standard."
After host Don Lemon showed several of one of the alleged killers' anti-white tweets, he asked whether "The media would be jumping on this if the situation was reversed and they said, '90% of black people are bad and we'll go out and kill people.'?"
"A week after the murder, it's too early to say we haven't done it," Hill fired back.
Watch the full segment below, via CNN:
— —
>> Follow Andrew Kirell (@AndrewKirell) on Twitter
Have a tip we should know? tips@mediaite.com