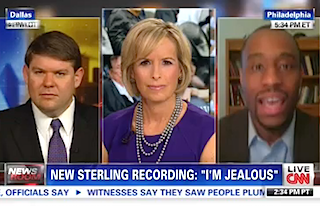 Last night, Bill Maher went out on a limb by effectively defending disgraced L.A. Clippers owner Donald Sterling's rights to privacy and free speech. If people like Sterling do not have the ability to say whatever they want — no matter how deplorable it is — in the privacy of their own homes, then what will that mean for someone like Maher, who makes his living saying anything and everything that's on his mind?
During a discussion about the Sterling scandal on CNN Saturday, contributor Marc Lamont Hill countered Maher's point, saying the problem with his argument is that Sterling does not owner a private business, but is rather part of the larger NBA franchise system.
"He has every right to say it, but the market has a right to respond and in this case the market has responded," Hill said of Sterling, noting the various sponsors that pulled their advertising from the Clippers in light of the owner's racist rant. "That's why he's losing [the team] and that's why Bill Maher's argument doesn't hold up," he said.
"I don't want to suggest that Bill Maher thinks those particular thoughts are OK from a moral or ethical perspective," Hill said later, "but I think what Bill Maher's saying is, if I have thoughts like this, there has to be a space that I can utter them without fear of recrimination, especially if I don't put them in public."
Ben Ferguson, appearing on the CNN panel with Hill, speculated as to why Maher feels so strongly about this issue. "Bill Maher has a little bit of an ax to grind when it comes to saying what you want to when you want to," he said, "because he used to have a TV show and he said something politically incorrect after 9/11 and it cost him his job. And now he's at his new show, which is on HBO, but I mean, I'm sure he doesn't like this."
Watch video below, via CNN:
[Photo via screengrab]
— —
>> Follow Matt Wilstein (@TheMattWilstein) on Twitter
Have a tip we should know? tips@mediaite.com