Marc Lamont Hill Clashes With Bill O'Reilly Over IRS Scandal, Obama's 'Very Dangerous Foreign Policy'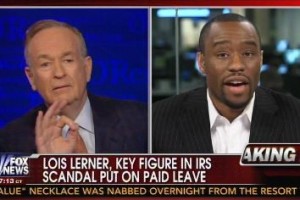 Marc Lamont Hill sat down with Bill O'Reilly tonight to react to the latest developments in the IRS targeting scandal and President Obama's big national security speech earlier today. Hill agreed with O'Reilly that someone needs to go over the IRS scandal, and told him that Obama's big speech was meant to distract from scandal season, but fought with O'Reilly over giving Obama the benefit of the doubt on culpability in the IRS targeting and on the dangers of the foreign policy Obama laid out today.
RELATED: O'Reilly Grills Bob Beckel: Why Are You Giving Obama Benefit Of The Doubt On IRS Scandal?
Hill told O'Reilly that it is "quite reasonable to assume" Obama had no advanced knowledge of what the IRS did. O'Reilly called him out on giving Obama the benefit of the doubt, though he did acknowledge it's certainly possible White house staffers wanted plausible deniability to keep "the big kahuna from the real nasty stuff." Hill did admit that the scandal "stinks," because the American people don't want a White House run by either party to target political groups.
Hill did push back against conservatives attempting to paint this as a "Nixon-like moment" in the Obama presidency, calling out the speaker of the House for finding it likely that Obama had to be involved.
O'Reilly then switched to Obama's big speech today, which he said was clearly a tactic to "reassert his authority," and told Hill the speech must have offended him and his fellow liberal "loons." Hill acknowledged that he has concerns about the "very dangerous foreign policy" being laid out by Obama.
Hill declared that Obama is "doing this to distract us from the IRS" and AP scandals. He said he has no problem with drones in general, but the ways in which drones are being used by the government, and shot down O'Reilly's "strawman" argument for making a false choice between drones that indiscriminately target people and nothing.
Watch the video below, courtesy of Fox News:
—–
Follow Josh Feldman on Twitter: @feldmaniac
Have a tip we should know? tips@mediaite.com
Josh Feldman - Senior Editor