Marc Lamont Hill Defends Obama During Heated CNN Debate: 'He's Not Webmaster in Chief'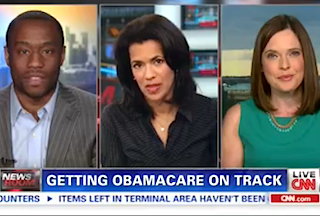 With the new November 30th deadline to fix the problems with HealthCare.gov just 28 days away, CNN anchor Fredricka Whitfield invited CNN political analyst Marc Lamont Hill along with former spokeswoman for President George W. Bush, Mercedes Schlapp to discuss what President Obama needs to do to regain the trust of the American people when it comes to his signature legislation.
Schlapp began by calling these last few days "an embarrassing week for the president," given the disappointing initial enrollment numbers. She said the president is "trying to make ground in terms of explaining why the launch was so dysfunctional, so messy," but in her view has not succeeded.
Hill conceded that, as Whitfield suggested "everyone can agree" that the rollout has been an "embarrassment" for the White House. But he was not willing to place the blame for the problems on President Obama. "He's not the webmaster in chief," he said. "There are people under him whose job it is to make this work." Hill "strongly disagreed" with the idea that the website problems are a "referendum on health care itself."
The Obama Administration has to get it right by November 30th, but I think they will," Hill continued. "But I think it's extremely slippery logic to think that somehow because the website didn't work for the first 30 days or for the first few weeks that Obamacare doesn't work. And I would say to anyone who makes that argument, if the website had worked perfectly, would the right be suddenly saying 'Oh my God, Obamacare makes sense! Universal health care is a good idea'? Of course not."
Schlapp shot back that Obama is "running into not only the website problems but credibility problems, which I think is impacting him personally," citing the president's promises that people would be able to keep their health care plans, when for many that is proving untrue. ]
Hill said he doubted that this would affect Obama's "long-term legacy" noting, "we are in a 24-hour news cycle, where everything is the most important thing at the moment, and then later on down the line it's not." He predicted that within three months, no one will be talking about the Obamacare website.
Watch video below, via CNN:
[photo via screengrab]
— —
>> Follow Matt Wilstein (@TheMattWilstein) on Twitter
Please enable Javascript to watch this video
Have a tip we should know? [email protected]