Marc Lamont Hill Slams Obama's Drone Policy: Unlike Bush, 'We Refuse To Hold Him Accountable'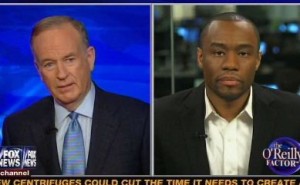 Once again, Monday night, Bill O'Reilly addressed the growing criticism he's received for accusing NBC News of not covering drone strikes when it was NBC reporter Michael Isikoff who released the Justice Department memo that focused the media's attention on drones in the first place.
O'Reilly made the point that he was really talking about the hypocrisy of liberals condemning waterboarding under George W. Bush while accepting drones under President Obama. To continue that discussion, O'Reilly invited Columbia University professor Dr. Marc Lamont Hill to discuss the issue.
Hill agreed with O'Reilly that the left "doesn't want to deal with" drones, saying, "I think the problem is we have convinced ourselves that Obama's drones are somehow softer and kinder and gentler than Bush's drones." Helping make O'Reilly's central point, he added, "We refuse to hold President Obama accountable for drones the same way we would have under the Bush administration."
"So basically you're saying your crew is hypocritical on the issue?" O'Reilly interrupted, clearly happy to have a liberal confirming his hypothesis.
Hill explained that whenever he would try to "hold Obama accountable" for things like drones, Democrats would tell him to be quiet until after the election and look at the bigger picture. "People have convinced themselves that Obama is much more reasonable and dovish on war issues than he actually is and I don't think it's just strategy," he said. "I think we are wrong."
O'Reilly proceeded to ask Hill about tomorrow night's State of the Union address and the economy specifically. Hill said he's happy with the "steady growth" the country's seen under Obama, but would like to see more being done for African-Americans. "The problem is oftentimes President Obama is unwilling or maybe even afraid to stay black people's names in public and that for me can be frustrating."
Watch video below, via Fox News:
—
>> Follow Matt Wilstein (@TheMattWilstein) on Twitter
Have a tip we should know? [email protected]