Marc Lamont Hill: The Guest Who Tells Bill O'Reilly He's Wrong About Everything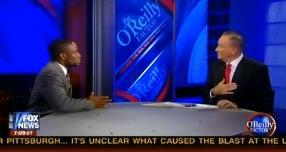 Liberal commentator and professor Marc Lamont Hill was fired from Fox News in October, but that hasn't stopped his regular appearances sparring with Bill O'Reilly on top-rated cable news show The O'Reilly Factor.
And last night's segment perfectly exemplified the fresh air Hill brings to the program and the network – he's not afraid to tell the host he's completely wrong.
Last night's lead segment featured O'Reilly continuing to air the endless loop of the National Geographic footage of the same Black Panthers yelling the same things about crackers, and questions about why the NAACP wasn't doing anything about it. O'Reilly thought it was a a double standard, but as he often does, he hedged it, "Am I wrong here?"
Marc Lamont Hill had an answer. "Yeah, you're absolutely wrong here," he said. The rest of the debate featured comments like "what you're saying is counter-factual" and "you have wildly unfair and unrealistic, and to some extent, patronizing expectations for the NAACP."
This was fun too:
O'Reilly: I'm not a smart guy like you.
Hill: I concede that point.
This was about the closest the two came to agreeing on anything: "If I were to make a list of priorities for the NAACP, challenging the racism in the tea parties wouldn't be one or two or three," said Hill.
There wasn't shouting and there weren't threats to cut a mic. It wasn't pundits predictably sparring either. This was just a case of a strong difference of opinion given the airtime to debate the issue at hand. It's something you see so rarely on cable news – and what makes O'Reilly so consistently successful.
Here's the segment:


—–
» Follow Steve Krakauer on Twitter
Have a tip we should know? tips@mediaite.com