Marc Maron Talks 'Candid and Raw' Obama Interview: 'I Felt a Human Presence'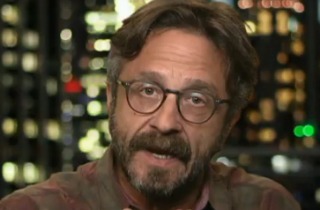 In his podcast discussion on WTF with Marc Maron, President Barack Obama drew reactions across cable news and the Internet when he used the n-word while talking on race relationships in America.
The reactions have ranged from those who feel that Obama was making a blunt and effective point about the obstacles African-Americans face, to those who others have said that using the word was inappropriate and beneath the dignity of his office.
Maron previously spoke about the importance of not taking Obama's use of the word out of context, and later, he appeared on All In With Chris Hayes to talk about how that context gave insight into the person behind the presidency. Maron said that he registered Obama's words as "candid and raw", but registered the exchange as the president making a strong point:
"The context of the conversation was very broad, the point he was trying to make in saying that word was succinct, and part of a longer discussion about race, and for them to get hung up on that is exactly what he's talking about later in the interview, which examines sort of why the echo chamber creates an environment where no real political conversation can happen."
Maron also told Hayes that an advantage of podcast interviews is a sense of "intimacy" that the environment creates, which he said allowed Obama to talk about issues on a "more human" level than what is typically allowed during formal interviews.
Maron noted that while there are few issues the president has not talked about, he described how his environment invites guests to take part in real conversation, saying that it can go beyond what the "public narrative" usually permits.
"I was hoping because of what I do in that garage, in general, is talk to a human being. I wanted to get a sense that I was connecting to a human being," said Maron. "I felt a human presence, and I felt very connected with my conversation… I really felt like I was talking to just a guy, in a lot of ways. A guy who has the job of president."
Watch the segment here, via MSNBC:
[Image via Screengrab]
— —
>> Follow Ken Meyer (@KenMeyer91) on Twitter
Have a tip we should know? tips@mediaite.com