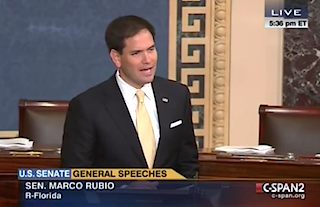 Sen. Marco Rubio (R-FL) took to the floor of the Senate Thursday afternoon to voice his unwavering support for Israel in the current conflict with Hamas in the Gaza Strip. At one point, Rubio condemned the "moral equivalency" that says both sides share some of the fault for the escalating violence.
"This idea that both sides are to blame, that is an interesting concept but it isn't true," Rubio said. "It is tragic that some civilians are dying in gaza, but the reason why civilians are dying is 100% Hamas' fault."
Rubio explained that Hamas is a organization that "puts rockets military installations right next to nurseries and hospitals and civilian population centers" so that they the areas surrounding those rocket launchers will in turn be destroyed by Israel. "Then they can get the cameras to go in and say look what Israel did," he said.
"They know exactly what they're doing," Rubio continued. "They do it so they can get the kind of coverage that unfortunately even some American press outlets are buying into now." While Israel drops leaflets on areas it is about to bomb urging civilians to evacuate, Rubio said Hamas "deliberately targets population centers to terrorize the people of Israel."
On Wednesday, NBC News foreign correspondent Ayman Mohyeldin described an Israeli attack on a Gazan harbor that killed four children and injured three others. Today, NBC News announced it was pulling Mohyeldin out of Gaza due to "security concerns."
Watch video below, via C-SPAN2:
[Photo via screengrab]
— —
>> Follow Matt Wilstein (@TheMattWilstein) on Twitter
Have a tip we should know? tips@mediaite.com