Marco Rubio Fires Up CPAC with Speech Defining America's Post-Obama Foreign Policy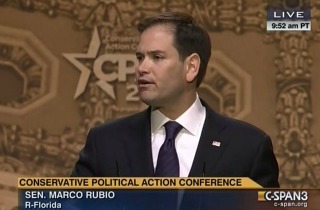 On Thursday, Sen. Marco Rubio (R-FL) addressed the 2014 Conservative Political Action Conference attendees with a fiery speech focused on redefining America's approach to foreign affairs. He defined the threats he warned that the United States will face in the near future and defined current and long-term America's economic challenges in terms relating to the preservation of free trade guaranteed by American military and diplomatic strength.

"We are right on the verge, if we make a few right decisions, of a new American century," Rubio began. He took a populist approach to arguing against "big government" by saying that large corporations are able to "deal with big government," while other smaller firms are not able to compete. He added that Democratic politicians are creating "disunity" in the country by focusing on addressing "inequality" rather than expanding access to opportunity.
"This notion that we're going to pit Americans against each other on issue after issue is something that we should never accept as a people, because it's never been who we are and it isn't who we are right now," Rubio said.
He pivoted to foreign policy, defining the threats faced by the United States. He said that China is threatening to take parts of the South China Sea which would limit trade and threaten America's allies, a nuclear North Korea is testing missiles, Venezuela is slaughtering protesters, and Cuba remains an oppressive dictatorship. He added that Iran continues to pursue nuclear weapons and regional hegemony and Russia is attempting to "reconstitute" the former Soviet Union.
"And by the way, what do all these countries have in common?" he asked. "These are totalitarian governments."
"There is only one nation on earth capable of rallying and bringing together the free people on this planet to stand up to the spread of totalitarianism," Rubio said. "The United Nations cannot do this. In fact, they cannot do anything."
"We cannot ignore that the flawed foreign policy of the last few years has brought us to this stage, because we have a president who believed but by the sheer force of his personality he would be able to shape global events," Rubio asserted. "We do not have the luxury of seeing the world the way we hope it would be. We have to see the world the way it is. And we have to address these issues before they grow unmanageable, and they threaten, not just our freedoms, but our economy."
"[Ronald] Reagan dealt with the Soviet Union because they had nuclear weapons and he wanted peace, but he never accepted the Soviet Union," he declared. He said went on to outline how the behavior of the Iranian government should be unacceptable to the American public and regarded as illegitimate.
"If you think high taxes and regulations are bad for our economy, so is global instability and the spread of totalitarianism," Rubio added. "What we have in America is the exception, not the rule, in human history. Almost everyone who has ever lived on this planet didn't' get to choose their leaders, and they didn't get to choose their life either."
"Every time I talk about how special America is, some commentator or whoever it may be will roll their eyes and say, 'Well, that's just something Americans tell each other to make themselves feel good,'" Rubio said. "You have the right to believe that. I don't have that option, because I've seen it with my own eyes."
Watch the speech below via CSPAN-3:
[Photo via screen grab]
— —
> >Follow Noah Rothman (@NoahCRothman) on Twitter
Have a tip we should know? tips@mediaite.com