Marco Rubio: Charlie Crist's Independent Run "Doesn't Change The Race At All"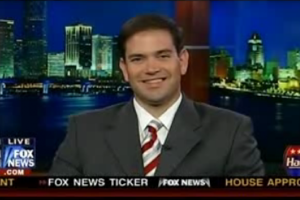 Merely hours after Republican governor of Florida Charlie Crist announced the launch of his campaign for US Senate as an independent, his opponent, Tea Party favorite March Rubio, appeared on Hannity to react to the announcement. To Rubio, the fact that a party switch makes Crist the frontrunner in several polls "doesn't change the race at all," but he would like Republican donors to get a refund.
Rubio, who described his views as "mainstream American positions that are shared by the vast majority of Floridians," considered the party switch an act of political survival by his opponent, and made the case that, despite that he did not expect to run against Crist and Democratic opponent Kendrick Meek at the same time, his platform is not changing. What he does hope changes, however, is Republican fundraising– he agrees that Republican Senator John Cornyn's call for a refund from the Crist campaign to reappropriate those funds to Rubio should be respected.
As for rumors that Crist had been trying to get in contact with White House Chief of Staff Rahm Emanuel, he commented that "nothing surprises me anymore, unfortunately. This is about… nothing more than the easiest way to extend their political career."
Rubio also had some comments on the Arizona immigration bill, which he has been openly opposed, although he respects Arizona's decision. To him, the bill will give the Obama administration "an excuse to force an amnesty bill down our throats, which I'm not for."
Watch the interview with Sean Hannity below:

Have a tip we should know? tips@mediaite.com