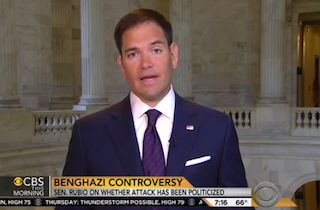 In what could end up being a mini preview of 2016, Sen. Marco Rubio (R-FL) spent Tuesday morning firing back at Hillary Clinton for her latest comments about the 2012 attack on the U.S. consulate in Benghazi, Libya. During an appearance on CBS This Morning, Rubio disputed Clinton's claim that Republicans are playing "minor league ball" when it comes to their criticism of her on the issue.
Asked by Diane Sawyer if the Benghazi debacle is a reason for her not to run for president in 2016, Clinton said quite the opposite. "Actually, it's more of a reason to run, because I do not believe our great country should be playing minor league ball. We ought to be in the majors," Clinton said. "I view this as really apart from — even a diversion from — the hard work that the Congress should be doing about the problems facing our country and the world."
"I don't think the issue of Benghazi is 'minor-league ball,'" Rubio told CBS News' Norah O'Donnell Tuesday. "Four Americans have lost their lives serving our country. We need to investigate it to understand what went wrong so that the people responsible for those decisions can be held accountable."
"The State Department had at its disposal a steady stream of reporting about how dangerous, and how much danger that facility in Benghazi was in," Rubio continued. "It is a fact they did not take sufficient security measures, and it is a fact that perhaps it shouldn't have even been there, and it is a fact that they did not have an extraction plan in place that was sufficient."
"If she thinks it's something we shouldn't focus on, then perhaps that gives you some insight as to why it happened in the first place," he added.
"She has to have some level of responsibility," Rubio said later, "because if she's going to brag about her time at the State Department, she also has to talk openly about their failures."
Watch video below, via CBS:
[Photo via screengrab]
— —
>> Follow Matt Wilstein (@TheMattWilstein) on Twitter
Have a tip we should know? [email protected]