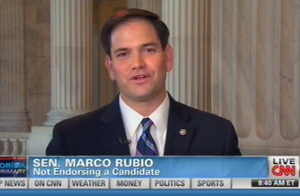 Over the past few months, we've been watching the top tier of the Republican party duke it out for the Presidential nomination (Sorry, Sarah. If you don't run, you don't get to be top tier). However, right next to them waiting in the wings, there's the next batch; the future of the Party made up of guys like Paul Ryan, Chris Christie, and Marco Rubio. They're younger guys who the GOP might have pegged for a 2016 run or, more importantly for right now, a spot as this year's Vice President. Well, you can take Rubio out of that talk. As he told Soledad O'Brien this morning, he will not be gunning for VP.
RELATED: "Sen. Marco Rubio: 'I Have Never Seen A President Pit Americans Against Each Other Like This One Does'
Rubio has seemed like an easy choice. He's an up and comer, a Conservative, and someone who's very popular with the all important Hispanic population. Also, his decision not to endorse any of the current candidates could have implied a desire to work with whichever one wins the nomination. But, no. Like the aforementioned Christie turning down the Presidential run itself, Rubio made it clear that he was happy with the post he's got.
His comment came after former Congressman Tom Davis remarked on air that he'd be a great Vice President.
"Well, look, my answer hasn't changed on that. I've answered it repeatedly. I have. I'm focused on my job in the Senate. I don't think I'm going to be asked in terms of getting elected. I'm not going to be the vice presidential nominee but I'm flattered by your words on the panel. We're going to TiVo that to my mom."
O'Brien then joked that moms are her key demographic.
Rubio explained that the only reason he hadn't endorsed anyone was because he had pre-existing relationships with two of the candidates and didn't think his input would change much anyway.
Watch the clip from CNN below:
Have a tip we should know? tips@mediaite.com